Over 200 Game Loungers from over 40 nationalities were invited to an organised meet-up in Halkidiki, Greece providing an opportunity for all, from first hires to new joiners, to embrace and unite with the culture that has allowed Game Lounge to bloom to what it is today. The company is proud of its fast-moving achievements and is devoted to placing Game Loungers at the forefront of its success.
Outstanding company events have been part of Game Lounge's culture since its inception. In today's world, hybrid-flexible and remote working has become more of a standard than a luxury, and so a yearly company-wide meet-up is now more important and relevant than ever, to sustain our Community Culture which the company is so humbly proud of. Many colleagues from around the globe met in person for the first time in years and some for the first time at all.
The reunion kicked off with a conference led by Charlene Vella Portelli, our Head of Vibe & Employer Branding, and Henriette Calleja Gafa, our Head of HR, where together they interviewed fellow Game Loungers on their working experience at the company, distributed company swag and introduced Siffi, a mental-health and coaching platform benefit which holistically supports the daily attention needs as they arise year-round.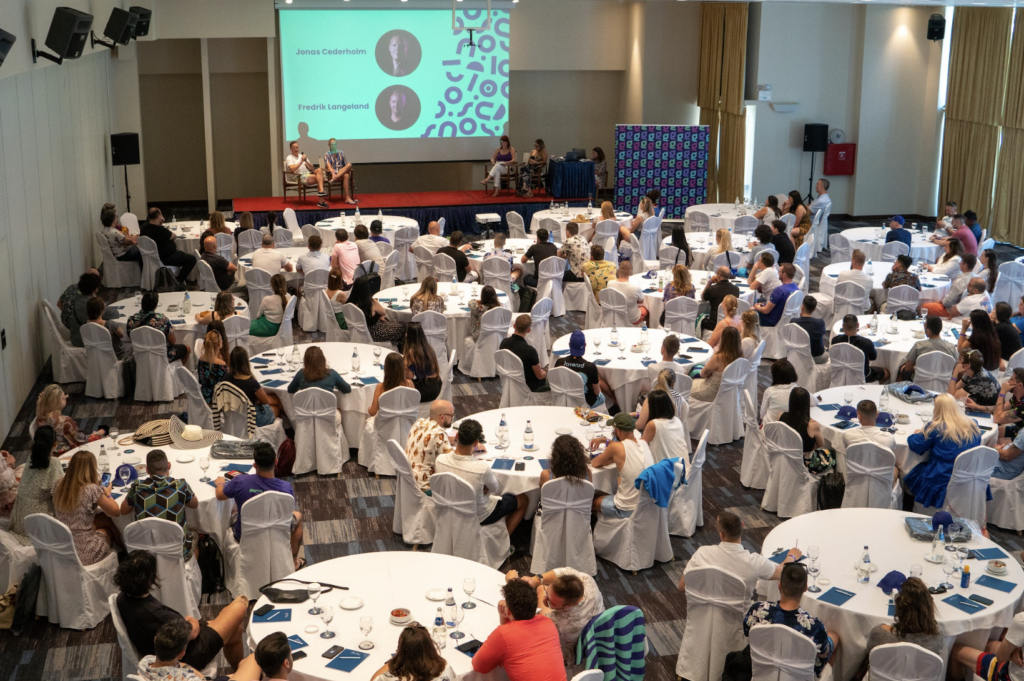 The presentation also interviewed the founders of the company, and they informally took us through the journey of how the company was founded, how it grew, and how the employees are at the core of this journey. Both founders, Jonas Cederholm and Fredrik Langeland share core values that they have sewn from day one as a seedling throughout the cultural roots of the company; the #gameloungelife as the Game Loungers refer to it as drives the people aspect keeping the three core values at the center; to be Agile, to be Bold, and to be Community-driven.
"It is about respecting the person and the life they have with the work they do, enabling them to give their best to both. This is why we re-invested in our teams, as we did with the 'break' in Greece, so they may relax and recharge in an environment aligned with the company culture. A company-wide meet up has become more important than ever as many Game Loungers are working remotely." – Jonas Cederholm, CEO & Founder
The Vibe Team responsible for organising this trip, had every little detail covered and made this event one to put down in the Game Lounge history books. From relaxing, swimming, and engaging in activities on sandy white beaches, to fabulous dinners and dancing the nights away, the trip provided a unique opportunity for Game Loungers to bond with one another, as well as celebrate their achievements in a fun way. Watch Game Loungers celebrating #gameloungelife.
This gathering enhanced the employee experience and promoted team spirit and collaboration which will ultimately have a positive impact on communication, teamwork, morale, and engagement between Game Loungers.
As the community grows, Game Lounge remains committed to creating an environment where individuals can flourish and become part of something bigger than themselves, creating a refined ecosystem and collective vision.