Earlier this year, Game Lounge embarked on a journey to implement a change in how decision-making is undertaken throughout the company. This transformation requires everyone to understand that decisions should always be based on facts and solid data.
With the help of Rosi Bremec & the Data Department, this data-driven journey has been progressing by empowering decision-makers to understand their goals and objectives, and create KPIs to gauge if they are on track to achieve them. Part of the process is initiating projects and ideas to embed data into decisions, interactions and processes, hence Data-Led Projects.
Data-led projects are real-life examples of a data strategy in action across the organisation. Each data-led project implementation moves Game Lounge closer to transitioning to a Data-Led organisation.
Workshops and meetings across all teams have been conducted over the past months, and each project was converted into a data story. This enabled stakeholders to clearly articulate the problems they intend to solve with data. Subsequently, ownership of projects was returned to the appropriate stakeholders, so they can drive them forward with complete confidence.
Hence, some weeks ago, Game Lounge hosted its first-ever Data-Led Conference at the Malta Marriot Hotel. The much-anticipated event saw stakeholders share fascinating insights into the company's progress with its new data-led approach and detail their exciting plans for the future. With no fewer than seventeen speakers spanning all teams, the day underlined just how much positive impact the transition to a data-led approach is having.
Data, Helping People and Processes
When it comes to people, Game Lounge is already an award-winning industry leader. But, by harnessing the power of data, it aims to make things even better. Emphasising this, kicking off the conference was Henriette Calleja Gafa, talking about her innovative Recruitment Forecasting Project and Employee Segmentation, which will use a data-led approach to measure employee well-being and engagement and ensure Game Lounge attracts and retains best-in-class talent.
Later in the day, Charlene Vella Portelli explained how the Vibe Team has also transitioned onto a new task management system and how they intend to harness data to improve workflow and results. Further driving efficiency, Maria De Martino shared plans to digitise processes and use data to automate more tasks across the legal department.
Victoria Sansone, who leads the database operations team, also talked about her data-led project, where she has digitised her processes by introducing Jira automation and Looker Team dashboards for every team member and implemented a Data scheduling project to proactively and regularly maintain data quality.
Measuring Results and Reducing Friction
Of course, when it comes to product management, effective use of data is paramount. And to this end, Michele Schembri introduced his Impact Calendar Project, designed to better link operations to revenue and performance – giving teams the ability to respond more quickly and efficiently.
In addition to the performance area, Maria Sayapina explained how she intends to use data to find correlations between position, brand, user activity, and revenue. Silvana Bernal also detailed how she will use data to segment and understand subscribers before passing on relevant impact information to site managers and the content team.
To reduce friction and waste, Robert Tanti and Jon Vella, from the IT team, outlined their new ticketing system and how they plan to use the data generated to optimise and automate processes. Specifically, they highlighted how it would help drive the creation of their Frequently Asked Questions, policies, and procedures.
In the same vein, but regarding reducing friction for site visitors, Jason Attard and Daniel Caruana Lupi shared how they want to use data to measure the impact of the elements and UX they create for the business.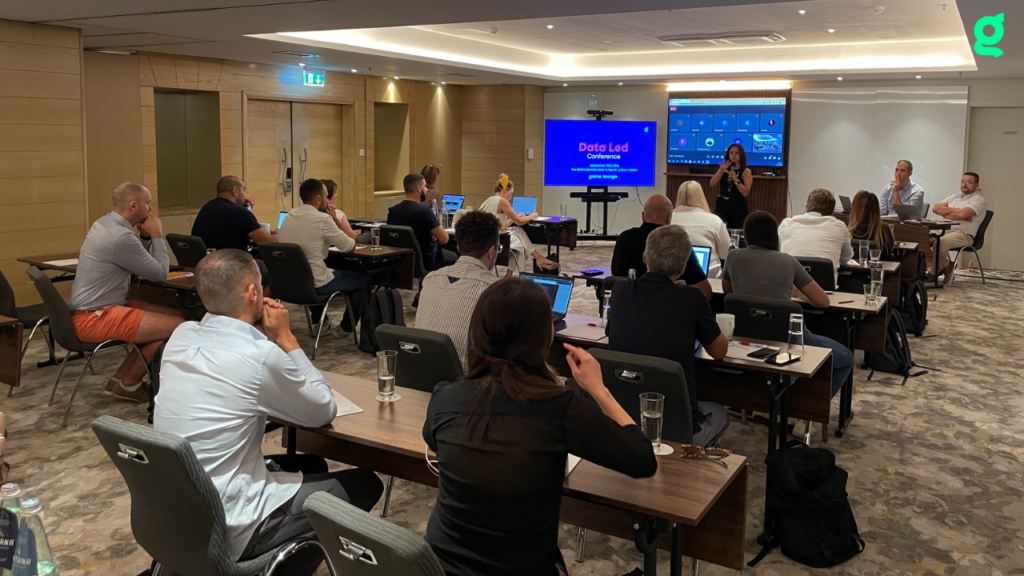 Optimising Content Impact and Production
With content at the core of Game Lounge's business, Sacha Kinser, Head of Content, detailed how she uses data to effectively determine which content has the most impact. Aidan Tanti and Victoria Buttigieg also explained how they focus on using data to better understand how users interact with their products to create data-driven content.
The video team is also enthusiastically embracing the data-led approach to increase ROI (return on investment), with Eduardo Eznarriaga detailing how he uses it to optimise output – resulting in an impressive production rate of consistently high-quality content.
Data Hacking the Big Picture
One field that's always been heavily data-led is SEO, but that hasn't stopped the Game Lounge team from taking things to the next level. Victor Artufel demonstrated this by explaining plans to build a bespoke dashboard to help him optimise SEO management across all of the company's sites. An ambitious task, but one that should help better identify the money-making keywords.
And, while Game Lounge has already demonstrated a unique ability to identify and pursue successful content strategies, Chief Strategy Officer Johnny Constantinescu outlined how data can drive further growth. Specifically, this will include grouping websites strategically and using data to help drive future mergers, acquisitions, and initiatives.
The data-led revolution at Game Lounge is fundamentally improving processes and results across the board. This initiative doesn't stop here, it is just the beginning. There will be much more to catch up with by the second Game Lounge Data-Led Conference.